Vietnam Solo Tour Holidays
Escorted holidays to Vietnam designed exclusively for solo travellers
Singles Holidays To Vietnam
Vietnam Escorted Tours for Solo Travellers
Vast, versatile and vibrant: Vietnam is all these things – and so much more. With colour and character at its heart, Vietnam offers you an independent holiday like no other. From exciting, eclectic metropolises such as Hanoi and Ho Chi Minh City to the peace and permanent tranquillity palpable all the way down the Mekong Delta, finding somewhere that'll appeal to your interests is a cinch. For an extra-indulgent globetrotting experience, you'll want to discover Vietnam. Trust us, there's nothing quite like getting in touch with your adventurous side and heading to one of the world's most eye-catching nations. Our hand-crafted Vietnam tours are designed to give you the experience of a lifetime, leaving you wanting to spend longer in this beautiful country.
We offer a wide range of trips to Vietnam that take in the whole of its 2,000-year history. Whether you can't wait to cruise among the awe-inspiring rainforest-topped limestone islands of Halong Bay or are aching to visit the amazing Cu Chi Tunnels, it's a pleasure to provide for such a diverse array of interests. To make your trip extra memorable, be sure to sign yourself up for a variety of optional excursions too. From water puppet shows to Saigon by night and the Cham ruins at My Son, there's so much to enjoy on your Vietnam singles holiday with Just You!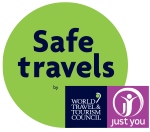 We're delighted to have received the World Travel and Tourism Councils (WTTC) Safe Travels stamp, which recognises businesses and destinations worldwide that have adopted a new set of global protocols to support the return of 'Safe Travel' around the world. 
Please note: We are not currently operating tours to Vietnam. Why not be inspired to explore other thrilling destinations around the world with Just You.