Norway Solo Tour Holidays
Escorted holidays to Norway designed exclusively for solo travellers
Singles Holidays To Norway
Norway Escorted Tours for Solo Travellers
Home to the mysterious and mesmerising Northern Lights, Norway is one of the world's most popular countries for single tourists. With the ethereal light of the midnight sun shining overhead, this magical winter wonderland of powder snow, huskies and reindeer is just begging to be explored. Surrounded by blue fjords and majestic mountains, you're in for a real treat when you travel solo to Norway. And with so many warm, friendly people around inviting you to share in their culture and traditions, your trip promises to be eye-opening as well as entertaining. As far as singles holidays to Norway are concerned, the Just You offering is genuinely hard to beat.
On our Norway guided tours, you'll head as far north as you can, beyond the Arctic Circle to Tromsø. This is one of the best places in the world to view the stunning natural phenomenon that is the Northern Lights, so always make sure to have a camera close to hand! In addition to the aurora's colour and intensity, you'll also have the chance to come face to face with seals and walruses native to Norwegian waters. How great does that sound?! And then there's the opportunity to enjoy an authentic ice fishing experience at Camp Tamok, with plenty of hot drinks and snacks to keep you warm. Vibrant and versatile, your time in Norway with Just You looks set to be incredible.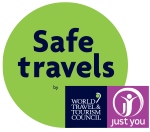 We're delighted to have received the World Travel and Tourism Councils (WTTC) Safe Travels stamp, which recognises businesses and destinations worldwide that have adopted a new set of global protocols to support the return of 'Safe Travel' around the world. 
Please note: We are not currently operating tours to Norway. Why not be inspired to explore other thrilling destinations around the world with Just You.