Iceland Tour Holidays
Escorted holidays to Iceland designed exclusively for solo travellers
Singles Holidays In Iceland
Iceland Escorted Tours for Solo Travellers
Fascinating and full of otherworldly wilderness, Iceland is as beautiful as it is intriguing. Because its landscape is heavily volcanic, you'll find everything from waterfalls and beautiful hot springs to gigantic sapphire-blue glaciers. Icelandic splendours are manifold; an array of exciting natural wonders await, and with the possibility of encountering the majestic Northern Lights, you should definitely bring it to the top of your 'to-travel' list. A singles holiday in Iceland is sure to be steeped in scenery and culture like you would never believe. For a world of ice and fire that's difficult to beat, head to Iceland solo with Just You and get ready for a wealth of great experiences you'll never forget.
Iceland tours for solo travellers with Just You have a breathtaking quality to them. For wildlife fans, there's an abundance of amazing animals – you might find yourself spotting whales from the shore one day, or seeing seabirds such as puffins, which nest along the country's coastline. Of course, you'll get to visit Reykjavik and discover its ancient Viking past, as well as how modern it has become in recent years. Iceland's Golden Circle is also on the itinerary, and there's no better way to fully immerse yourself in Icelandic culture than taking a dip in the fabled Blue Lagoon. Discover Iceland with Just You and get ready for a solo travel experience that you'll treasure forever.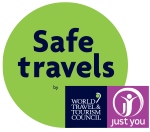 We're delighted to have received the World Travel and Tourism Councils (WTTC) Safe Travels stamp, which recognises businesses and destinations worldwide that have adopted a new set of global protocols to support the return of 'Safe Travel' around the world. 
Please note: We are not currently operating tours to Iceland. Why not be inspired to explore other thrilling destinations around the world with Just You.