Slovenia Tour Holidays
Escorted holidays to Slovenia designed exclusively for solo travellers
Single Holidays In Slovenia
Slovenia Solo Travel Tours
Replete with natural treasures, exquisite architecture, and charming rustic culture, Slovenia is somewhat of a hidden gem in the heart of Europe. Here you'll find picturesque lakes, glorious mountain scenery, and enchanting castles, as well as a host of local treats and traditions. Slovenia is the perfect place to broaden your cultural horizons while at the same time discovering attractions that are truly out of this world. For instance, the spectacular scenery of the Julian Alps is yours to enjoy to the fullest, as are the numerous historical monuments en route to the Predil Mountain Pass. Awesome shared experiences are the norm on solo tours of Slovenia with Just You.
Singles holidays in Slovenia with Just You, of course, feature highlights that cater for travellers with all sorts of interests. If you consider yourself a culture vulture, you'll love the Liznjek homestead, a museum where you'll get the chance to learn about traditional ways of life in Slovenia's Upper Sava Valley. The capital city, Ljubljana, was crowned the Green Capital of Europe in 2016 and is the perfect place for urban tourists and history buffs alike; with the Old Town featuring gorgeous cobbled streets and a castle-topped hill, heritage is at its heart, while the bustling public market, which runs along the river, is ideal for souvenir shopping. See the very best of Slovenia and enjoy a wealth of shared experiences with like-minded travellers on your solo holiday with Just You!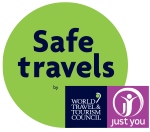 We're delighted to have received the World Travel and Tourism Councils (WTTC) Safe Travels stamp, which recognises businesses and destinations worldwide that have adopted a new set of global protocols to support the return of 'Safe Travel' around the world. 
Featured Slovenia Escorted Tour Holidays