Morocco Tour Holidays
Escorted holidays to Morocco designed exclusively for solo travellers
Morocco Solo Travellers Holidays
Morocco Escorted & Guided Tours for Solo Travellers
Bordering both the Atlantic Ocean and the Mediterranean Sea, what sets Morocco apart is its diverse cultural influences; Berber, Arabian and European powers have all held this land, each adding to its history and charm. A place where adventure and tradition come together in perfect harmony, you'll find everything from fiery-red Saharan sand dunes to bustling souks whilst on a Morocco escorted tour.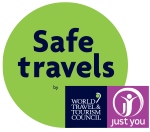 We're delighted to have received the World Travel and Tourism Councils (WTTC) Safe Travels stamp, which recognises businesses and destinations worldwide that have adopted a new set of global protocols to support the return of 'Safe Travel' around the world. 
Please note: We are not currently operating tours to Morocco. Why not be inspired to explore other thrilling destinations around the world with Just You.