United Kingdom Tour Holidays
Escorted holidays to United Kingdom designed exclusively for solo travellers
Single Holidays In The United Kingdom
UK Escorted Tours for Solo Travellers
Exploring closer to home is often overlooked as far as solo travel is concerned, but it shouldn't be; once described by poet William Blake as a 'green and pleasant land', the United Kingdom has more to offer the single holidaymaker than many realise. From vibrant cities to historic towns; quaint country pubs to amazing architectural wonders, the UK is the perfect place to have a solo adventure like no other. Offering handcrafted solo holidays in the UK, Just You believes that single travel should be enjoyed to the full, and we are more than ready to help you do just that.
Our UK holiday packages feature some of the country's most spectacular regions and sights. If you're more of an active traveller, going walking in the Peak District promises to be a fun adventure that shows you the awe-inspiring, world-renowned landscapes of Yorkshire. On the other hand, if it's the stunning scenery of the south you want, nothing tops our walking tour of Devon and Dartmoor, featuring breathtaking sea views as well as a visit to the dramatic wilderness of Dartmoor National Park. Wild and wonderful, solo travellers have tons to look forward to whilst touring the UK with Just You.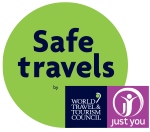 We're delighted to have received the World Travel and Tourism Councils (WTTC) Safe Travels stamp, which recognises businesses and destinations worldwide that have adopted a new set of global protocols to support the return of 'Safe Travel' around the world. 
Please note: We are not currently operating tours to the United Kingdom. Why not be inspired to explore other thrilling destinations around the world with Just You.