Canada Tour Holidays
Escorted holidays to Canada designed exclusively for solo travellers
Singles Holidays To Canada
Canada Escorted Tours for Solo Travellers
Canada is one of the world's most remarkable countries, and it's easy to see why; with scenery that feels both endless and enchanting, you could almost be forgiven for thinking you'd been transported to a winter wonderland. Of course, Canada's cities are just as spectacular; pristine and pedestrian-friendly, this is a country fully prepared to welcome tourists and share its unrivalled beauty with the world. Just You offers a varied selection of Canada escorted tours sure to delight intrepid solo travellers, particularly nature lovers looking to really embrace the great outdoors. Throughout the year, Canada is ready to welcome you to its shores; if you want to get up close to beluga whales in summertime or would much prefer a trip by rail on the fabled Rocky Mountaineer during winter, now's your chance! However you envision your singles holiday to Canada, count on Just You to make it a reality. Canada is a brilliant destination for solo travellers taking an opportunity to do some self-discovery. There's no better way of getting back to nature than spending some quality time in among beautiful rural landscapes, which Canada has in abundance. And, of course, you're sure to make a ton of newfound friends on your journey who are likely to share your passion for peace and tranquillity. Head to Canada with confidence on tour with Just You and discover all that's beautiful about the Great White North!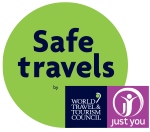 We're delighted to have received the World Travel and Tourism Councils (WTTC) Safe Travels stamp, which recognises businesses and destinations worldwide that have adopted a new set of global protocols to support the return of 'Safe Travel' around the world. 
Please note: We are not currently operating tours in Canada. Why not be inspired to explore other thrilling destinations around the world with Just You.