Peru Tour Vacations
Escorted vacations to Peru designed exclusively for solo travelers
Singles Vacations Peru Tours
Peru Solo Tour
Home to part of the Amazon rainforest and Machu Picchu, an ancient Incan city high in the Andes mountains, Peru is a particularly intriguing country. Rich in archaeological sites, the region around Machu Picchu, which includes the Sacred Valley, Inca Trail and the colonial city of Cusco, is an amazing place for culture vultures and history buffs to do some dedicated exploring. Lima, the capital, sits on Peru's arid Pacific coast; boasting a preserved colonial centre and significant collections of pre-Columbian art, as well as being a modern metropolis replete with restaurants and boutique department stores, you can learn all you ever wanted about ancient South American civilizations while enjoying all the comforts of home right here. Whatever your reasons for visiting, there's no better way to discover this incredible country than on a Peru singles vacation with Just You.
Adventure and Peru are pretty much synonymous with one another; you're guaranteed a wealth of exciting experiences whenever you visit during the year, especially solo with Just You. Our handcrafted tours show you all the highlights of Peru, whether you go souvenir shopping for glittering Andean trinkets or fancy a photo op at the world's highest navigable lake – as far as we're concerned, nothing is off limits. Experience Peru escorted tours with Just You first-hand for an adventure you'll never forget.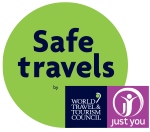 We're delighted to have received the World Travel and Tourism Councils (WTTC) Safe Travels stamp, which recognizes businesses and destinations worldwide that have adopted a new set of global protocols to support the return of 'Safe Travel' around the world.