Madeira Solo Tour Holidays
Escorted holidays to Madeira designed exclusively for solo travellers
Singles Holidays To Madeira
Madeira Escorted Tours for Solo Travellers
Affectionately known as the 'Pearl of the Atlantic', Madeira is somewhat of a hidden gem when it comes to travel destinations. An autonomous region of Portugal comprising four islands off the northwest coast of Africa, it is perhaps best known for its namesake wine, while also boasting a delightfully warm, subtropical climate. Volcanic, green and rugged, with high cliffs and pebbly beaches, Madeira is a nature lover's dream. The breath-taking capital Funchal is home to gorgeous botanical gardens, and it is also known for its myriad walking paths and harbour. Wherever you go on Madeira, you're in for a great time.
Madeira has so much on offer for the avid adventurer to enjoy. From willow crafts to wine tasting; embroidery to mountain views, you'll experience first-hand the amazing culture and outstanding beauty of this remarkable island. Singles holidays to Madeira should always be about giving something fresh a go, and Just You can provide you with this opportunity with our handcrafted tours. Madeira will relax you and fill you with joy, let you take everything in at your own pace while at the same time keep you coming back for more. Experience all there is to see and do here on Madeira packages with Just You.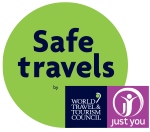 We're delighted to have received the World Travel and Tourism Councils (WTTC) Safe Travels stamp, which recognises businesses and destinations worldwide that have adopted a new set of global protocols to support the return of 'Safe Travel' around the world. 
Please note: We are not currently operating tours to Madeira. Why not be inspired to explore other thrilling destinations around the world with Just You.