Borneo Solo Tour Holidays
Escorted holidays to Borneo designed exclusively for solo travellers
Borneo Solo Travellers Holidays
Borneo Guided Tours for Solo Travellers
If you're interested in the natural world and all its wondrous diversity, Borneo is where you should go on your solo holiday. Borneo solo travel is an excellent way to see all this real-world paradise has to offer. Here mountainous terrain and tropical rainforest sit side by side in perfect harmony, home to all manner of beautiful animals and exotic plant life. It is in Borneo you will find the elusive orangutan, man's closest relative at home in the verdant lowlands. With more scenery and species than you ever thought possible, go on Borneo holidays with Just You for the trip of a lifetime.
Your Borneo solo travel journey with Just You promises to offer a wealth of once-in-a-lifetime experiences. From traditional gong-making and honey bee farming to national parks and hot springs, a good time is guaranteed to be had by all. History buffs and culture vultures alike are sure to be impressed by Sandakan Memorial Park, built in honour of the POWs who died in the Sandakan Death Marches during WW2, while excursions to traditional villages, seeing grazing buffalo and beautiful countryside interwoven with paddy fields, are bound to be a big hit for ecotourists. Bask in the glory of Borneo with independent travel tours with Just You and enjoy this paradise with like-minded solo explorers.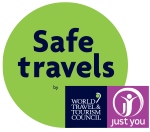 We're delighted to have received the World Travel and Tourism Councils (WTTC) Safe Travels stamp, which recognises businesses and destinations worldwide that have adopted a new set of global protocols to support the return of 'Safe Travel' around the world. 
Please note: We are not currently operating tours to Borneo. Why not be inspired to explore other thrilling destinations around the world with Just You.