Costa Rica Tour Holidays
Escorted holidays to Costa Rica designed exclusively for solo travellers
Singles Holidays To Costa Rica
Costa Rica Guided & Escorted Tours for Solo Travellers
Costa Rica is nothing short of a real-world paradise. The staggering amount of wildlife making its home within the country's luscious tropical forests and among its flowing waterways and pristine beaches is simply mesmerising. It's hard not to be entranced by the myriad wonders of this seductive country. With an exaggeratedly relaxed pace of life, you'd be forgiven for thinking that you'd landed in the actual Garden of Eden. Always wanted to experience a cloud forest? Well, here you can. Ready to see bright-beaked toucans and vocal howler monkeys in their natural habitat? Say no more! Thanks to Just You, Costa Rica singles holidays just got even more captivating.
Getting to know the real Costa Rica is easy with Just You. We'll take you across the country, seeing many unforgettable sights along the way. You'll be swept away by all the amazing things to see and do here, from guided boat tours through the jungle to visiting an indigenous community. If you see yourself as more of a thrill seeker, you'll have the option to take in breathtaking views of the rainforest as you soar across an exhilarating zip line. Discover the paradise of Costa Rica with intrepid travellers such as yourself on fully guided singles holidays with Just You!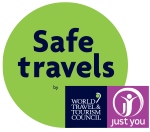 We're delighted to have received the World Travel and Tourism Councils (WTTC) Safe Travels stamp, which recognises businesses and destinations worldwide that have adopted a new set of global protocols to support the return of 'Safe Travel' around the world. 
Please note: We are not currently operating tours to Costa Rica. Why not be inspired to explore other thrilling destinations around the world with Just You.