Wines to enjoy on your solo travels
From Italy to Australia, it's great to savor the wonderful flavors from some of the world's greatest wine-producing countries. What's even better, is enjoying these wines, while taking a solo adventure visiting local vineyards with spectacular views.
Italy
Where do you begin with Italy? It's the world's largest producer of wine and not surprising as you'll find producers in every single region of this country – from top to toe. For example, on a solo walking holiday to Tuscany why not enjoy a bottle of Chianti or two. Dating back to the 14th century, this wine is sometimes referred to as the 'Bordeaux of Italy'. There are a huge variety of Chianti blends - which will you prefer?
Spain
If you're planning on joining a singles walking holiday along the Camino de Santiago then you could be in for a treat visiting the La Rioja wine region. More than 500 wineries are scattered across the landscape. Generally, a Rioja wine is known for being a fruity red possessing a dark cherry and berry flavor however, you'll also find white Rioja and Rosado on the table should you prefer something a little lighter.
South Africa
The Cape Winelands, made up of Stellenbosch, Paarl and Franschhoek, is the most important wine-producing region of South Africa, and home to world-renowned wineries.  Its Mediterranean climate is perfect for wine production so it's no surprise that wine production has existed here since the first settlers came to the region. Cabernet Sauvignon and Chardonnay grapes are perhaps the most tried and tested grape varieties to use in its blends. 
Australia 
Australia has an astonishing range of climates, with distinct wine-growing regions producing a diverse range of wines. Make sure you visit the Barossa Valley, one of the country's oldest wine regions in Southern Australia. The area is best-known for its shiraz wines – in fact some of the oldest shiraz vines can be found in this region. Some would say that Shiraz from the Barossa Valley offer the most flavorful wine in the world with aromas of blackberry, mocha, dried currant – there's a reason so many award-winning bottles are from this area.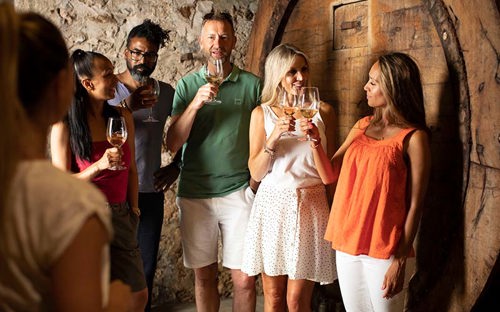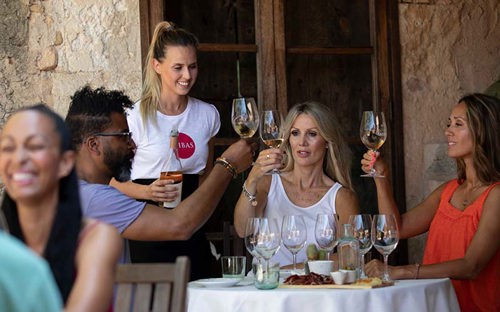 Top tips on wine tasting
Look – don't touch!
Once poured, before you try, hold your glass next to a white surface and look at it – take time to assess the color and clarity of the wine. By tilting it slightly and allowing the wine to run up the side of the glass slightly, you'll be able to see how intense the colour is. As a rule, the lighter the shade of colouring, the lighter the body the wine is.
Give it a sniff
Yes, that's right, it's time to smell the wine. Gently swirl the wine in your glass as this helps the aromas of the wine to flourish (also check out the legs that run down the side of the glass. Wines with "good legs" tend to be dense and riper than those that do not). No need to put your nose deep in the glass, you'll get what you need hovering above the rim. What can you smell? Citrus fruits? Berries? Florals? You may even get some of the aromas that come from the aging process – oak, leather, baking spices. What you don't want to smell is a musty scent or burnt matches – these indicate that the wine has been spoiled.
Take a sip
Finally… it's time for the good part, take a sip of wine, letting in a little air in at the same time - this will help to accentuate the flavors. How did it taste? Delicious?
Time to cleanse the palate and get ready for the next glass