Ethiopia Solo Tour Holidays
Escorted holidays to Ethiopia designed exclusively for solo travellers
Ethiopia Solo Travellers Holidays
Ethiopia Escorted & Guided Tours for Solo Travellers
Landlocked and sharing borders with Eritrea, Djibouti, Somali, the Sudan and Kenya, Ethiopia is a land of incredible natural contrasts - The Blue Nile Falls sound like thunder as water cascades over the 45-meter drop. Mountain peaks scatter the horizon while lakes and rainforests are the home to wondrous wildlife and mysterious island monasteries.  Addis Ababa, the country's capital is a marvellous cacophony of new skyscrapers sitting alongside traditional markets and dirt roads. But, on a solo tour to Ethiopia, it is in the city that you'll first get a taste of traditional cuisine before venturing out to explore what more there is to experience.
With 9 UNESCO World Heritage sites, including the Simien Mountains, Axum and the churches of Lalibela, it's no wonder that the country is attracting the attention of travellers. Where ever you travel on an Ethiopian solo holiday, you'll discover that the country retains a strong cultural identity that can be felt throughout. From the people you meet, to the towns and villages you visit, and the food you taste – they all offer a glimpse into the very foundation of the country and an experience that will offer life-long memories.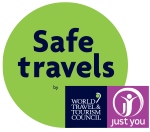 We're delighted to have received the World Travel and Tourism Councils (WTTC) Safe Travels stamp, which recognises businesses and destinations worldwide that have adopted a new set of global protocols to support the return of 'Safe Travel' around the world. 
Please note: We are not currently operating tours to Ethiopia. Why not be inspired to explore other thrilling destinations around the world with Just You.