Kenya Tour Holidays
Escorted holidays to Kenya designed exclusively for solo travellers
Kenya Solo Travellers Holidays
Kenya Escorted & Guided Tours for Solo Travellers
Encompassing savannah, lakes, the dramatic Great Rift Valley and mountain highlands, Kenya is a truly captivating country. One-tenth of the country's entire land area is designated as national parks and game reserves, such as the Masai Mara, Tsavo and Amboseli. Kenya is also home to a diverse array of wildlife, including lions, elephants and rhinos, and is celebrated for its annual wildebeest migrations. You'll also have tantalising views of Mt Kilimanjaro to look forward to on your trip. No matter what your tastes, Just You takes Kenya solo travel to the next level, providing a wealth of exceptional experiences for independent travellers to enjoy.
Surrounded by nature, wildlife, and more than a touch of luxury, Just You is determined to make your solo holiday to Kenya extra special. Our handcrafted tours have everything you need for a truly fulfilling trip, and Kenya is no exception. Here you'll get up close and personal with everything from the animals of the savannah to Kenya's forest canopy, as well as local villagers who are only too happy to welcome interested visitors into their daily lives. The waves and smiles of children making their long treks to school is a sight you'll treasure forever. If it's adventure and excitement you're looking for, you can't go wrong travelling with Just You in a group of like-minded solo explorers.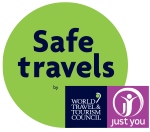 We're delighted to have received the World Travel and Tourism Councils (WTTC) Safe Travels stamp, which recognises businesses and destinations worldwide that have adopted a new set of global protocols to support the return of 'Safe Travel' around the world. 
Please note: We are not currently operating tours to Kenya. Why not be inspired to explore other thrilling destinations around the world with Just You.