United Arab Emirates Tour Holidays
Escorted holidays to United Arab Emirates designed exclusively for solo travellers
United Arab Emirates Tour Packages
UAE Guided & Escorted Tours for Solo Travellers
Located on the southeastern corner of the Arabian Peninsula, the UAE is a federation of seven states, each with its own unique character. Abu Dhabi is the largest, while in dazzling Dubai traditional souks and palaces sit beside skyscrapers and record-breaking buildings in a unique destination surrounded by desert. Sharjah is known for its museums, Ajman is the smallest, Fujairah has stunning mountain scenery, Umm Al Quwain is popular with birdwatchers and Ras Al Khaimah boasts natural beauty like nowhere else in the world. Despite being relatively young in terms of tourism potential, the UAE attracts millions of visitors each year. And it's easy to see why.
With Just You, the United Arab Emirates means just one place: Dubai. This sci-fi-esque city of iconic skyscrapers, palm-shaped islands, city-sized malls, indoor ski slopes and palatial beach resorts is all the playground you need for an unforgettable solo holiday. Boasting an array of architectural gems and some of the world's most beautiful beaches, you'll see highlights such as the Dubai Marina, the Burj Al Arab and the Madinat Souk. And there's even the opportunity to enjoy on a dhow cruise in the Dubai Marina, which promises to be nothing short of spectacular. Discover Dubai with Just You and experience a world unlike any you could ever imagine!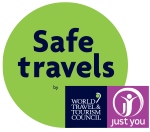 We're delighted to have received the World Travel and Tourism Councils (WTTC) Safe Travels stamp, which recognises businesses and destinations worldwide that have adopted a new set of global protocols to support the return of 'Safe Travel' around the world. 
Please note: We are not currently operating tours to the UAE. Why not be inspired to explore other thrilling destinations around the world with Just You.