Uzbekistan Tour Holidays
Escorted holidays to Uzbekistan designed exclusively for solo travellers
Uzbekistan Escorted Tours for Solo Travellers
For over two millennia Uzbekistan's ancient Silk Road has been a trading route. The very essence of this land branches from the lucrative links this route between Asia and Africa has brought. Glittering towns and cities spring up from the desert all laden with shimmering mosques, temples and shrines.
From architecturally-rich Khiva and holy Bukhara to ancient Samarkand and decorative Tashkent, expect to be enlightened.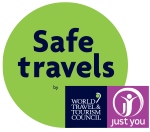 We're delighted to have received the World Travel and Tourism Councils (WTTC) Safe Travels stamp, which recognises businesses and destinations worldwide that have adopted a new set of global protocols to support the return of 'Safe Travel' around the world. 
Please note: We are not currently operating tours to Uzbekistan. Why not be inspired to explore other thrilling destinations around the world with Just You.