North Cyprus Tour Holidays
Escorted holidays to North Cyprus designed exclusively for solo travellers
Singles Holidays To Cyprus
North Cyprus Escorted Tours for Solo Travellers
Fabled birthplace of Aphrodite – Greek goddess of love – the beautiful island of Cyprus rises from the eastern end of the Mediterranean Sea. Fringed with pristine beaches and with a coastline backed by scented pine-clad slopes, Cyprus is nothing short of dazzling. Home to everything from friendly locals and intriguing history to enchanting cities and delectable cuisine, Cyprus is the place to be for a holiday filled with all the good things in life. If you're looking for a warm, sunny retreat full of more comforts than you could possibly imagine, our singles holidays in Cyprus are sure to deliver.
Our package holidays to Northern Cyprus are a wonderful way to discover all this beautiful island has to offer. Northern Cyprus boasts a compelling culture and landscapes, steeped in myth and bursting with ancient riches. There's a hidden history to this area of the country that can be found in its incredible ruins and medieval walled towns. And the scenery is absolutely sublime; wherever you go here, you'll be treated to a wealth of natural wonders that simply must be seen to be believed. For a singles holiday to Cyprus that gives you ample opportunity to make memories and discover many beautiful sights, count on Just You to deliver the solo trip of a lifetime.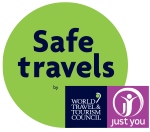 We're delighted to have received the World Travel and Tourism Councils (WTTC) Safe Travels stamp, which recognises businesses and destinations worldwide that have adopted a new set of global protocols to support the return of 'Safe Travel' around the world. 
Please note: We are not currently operating tours to North Cyprus. Why not be inspired to explore other thrilling destinations around the world with Just You.