Romania Tour Holidays
Escorted holidays to Romania designed exclusively for solo travellers
Singles Holidays To Romania
Romania Escorted & Guided Tours for Solo Travellers
With a rugged terrain of rocky mountains and rolling hills, Romania has emerged as a country showcasing the amazing power of nature to interested single travellers. Its hilly geography has given rise to hundreds of self-sufficient villages, where old-school crafts such as bread-making, pottery, tanning and weaving have been honed to art that tourists all over the world can appreciate. Also, this is the land that served as the inspiration for the Dracula legend, meaning you're sure to have an interesting time wherever you go here. Whatever your tastes, Romania guided tours with Just You all but guarantee an unforgettable experience.
On our escorted tours of Romania, solo travellers have lots to look forward to. Bucharest and the enchanting castles of Transylvania are yours to discover; you'll have plenty of time to take in the history, local traditions, language, food, and interesting facts surrounding some of Romania's most exciting places whilst on your trip. Romania solo travel is one of the best ways to experience all the wonders this fascinating country offers, and in the company of other like-minded single explorers, you're sure to make some great memories. See Romania the way you've always wanted with Just You!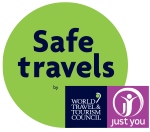 We're delighted to have received the World Travel and Tourism Councils (WTTC) Safe Travels stamp, which recognises businesses and destinations worldwide that have adopted a new set of global protocols to support the return of 'Safe Travel' around the world. 
Please note: We are not currently operating tours to Romania. Why not be inspired to explore other thrilling destinations around the world with Just You.