Russia Tour Holidays
Escorted holidays to Russia designed exclusively for solo travellers
Russian Package Holidays For Singles
Solo Russian Holiday Tours
As the world's largest country, Russia holds a special place in the hearts of all travel lovers, especially those looking for adventure and excitement. The contrasts in Russia are enough to make you think you've gone to two destinations at once; in cities like Moscow and St Petersburg, a vibrant, urban culture emerges, while more rural communities tend to stick to tried and tested ways of living. Intriguingly diverse, Russia is a tremendous country overflowing with landmarks, including Red Square, St Basil's Cathedral and the mysterious Kremlin. Russian singles tours are undoubtedly an excellent way of experiencing the very best of our planet's biggest nation.
Solo travel to Russia with Just You means enjoying a variety of experiences in the company of like-minded independent explorers. There's even the opportunity to see Russia through the eyes of one of its most talented and famous writers, Leo Tolstoy, whose former home is among the sights on your itinerary. Insight into the opulent lives of Russian aristocracy is also yours to receive while on guided visits to attractions such as the magnificent Catherine Palace in Pushkin. And with the option to explore Russia by river, there'are even more amazing areas of this country to discover. Delve deep into Russian life and history on handcrafted Russian singles tours with Just You!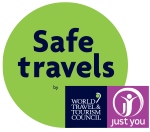 We're delighted to have received the World Travel and Tourism Councils (WTTC) Safe Travels stamp, which recognises businesses and destinations worldwide that have adopted a new set of global protocols to support the return of 'Safe Travel' around the world. 
Please note: We are not currently operating tours to Russia. Why not be inspired to explore other thrilling destinations around the world with Just You.